Cristiano Ronaldo may have been voted the best player in the world, but he is nowhere to be seen in the top 25 most valuable players in the new game
The beta for Football Manager 2018 went live on Thursday night, giving football fans their first chance to test out the newest version of the game and take charge of their favourite team.
Virtual managers will be looking to strengthen their teams as soon as they start up the game, but many of the world's biggest and best names may be a little out of their price range at the beginning.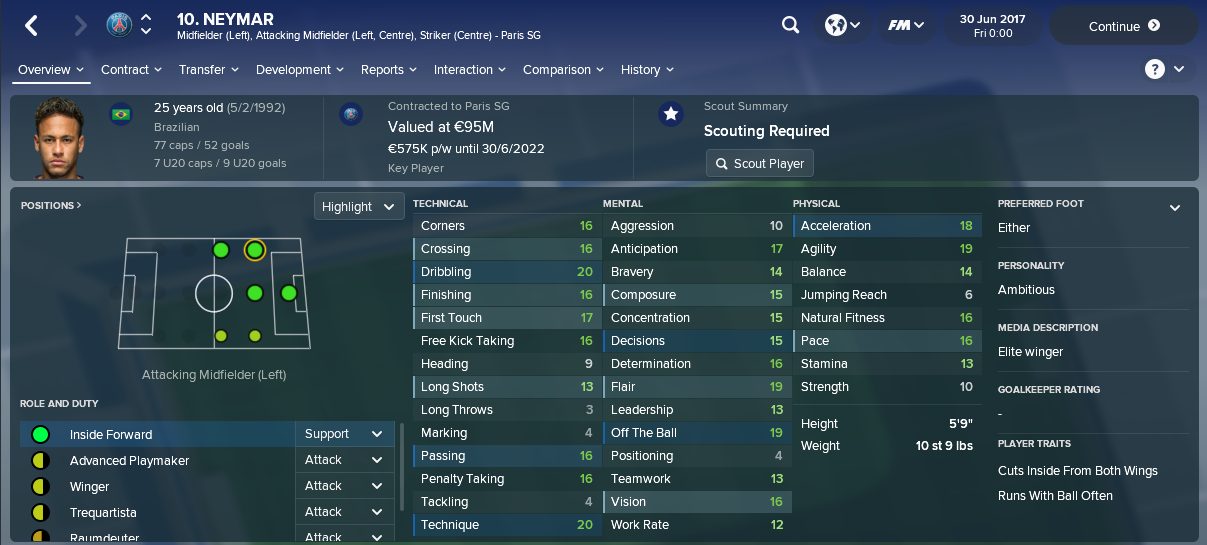 Following his €222 million transfer from Barcelona to PSG, Brazil forward Neymar is the joint most expensive player in FM2018, with a market value of €95m. However, even if you do have that much to spend in your initial wage budget, it is unlikely that the Ligue 1 giants will be willing to sell their new superstar.
Lionel Messi is also valued at €95m, with Manchester City's dynamic midfielder Kevin De Bruyne coming in just behind at €87m.
Having won the FIFA Best Men's Player in the World Award at the Best Awards in late October, Cristiano Ronaldo is more valued in real life than in the newest version of Football Manager, with his value dropping to €55m thanks to the fact he is now 32-years-old.
---
WHO ARE THE MOST EXPENSIVE PLAYERS IN FM2018?
---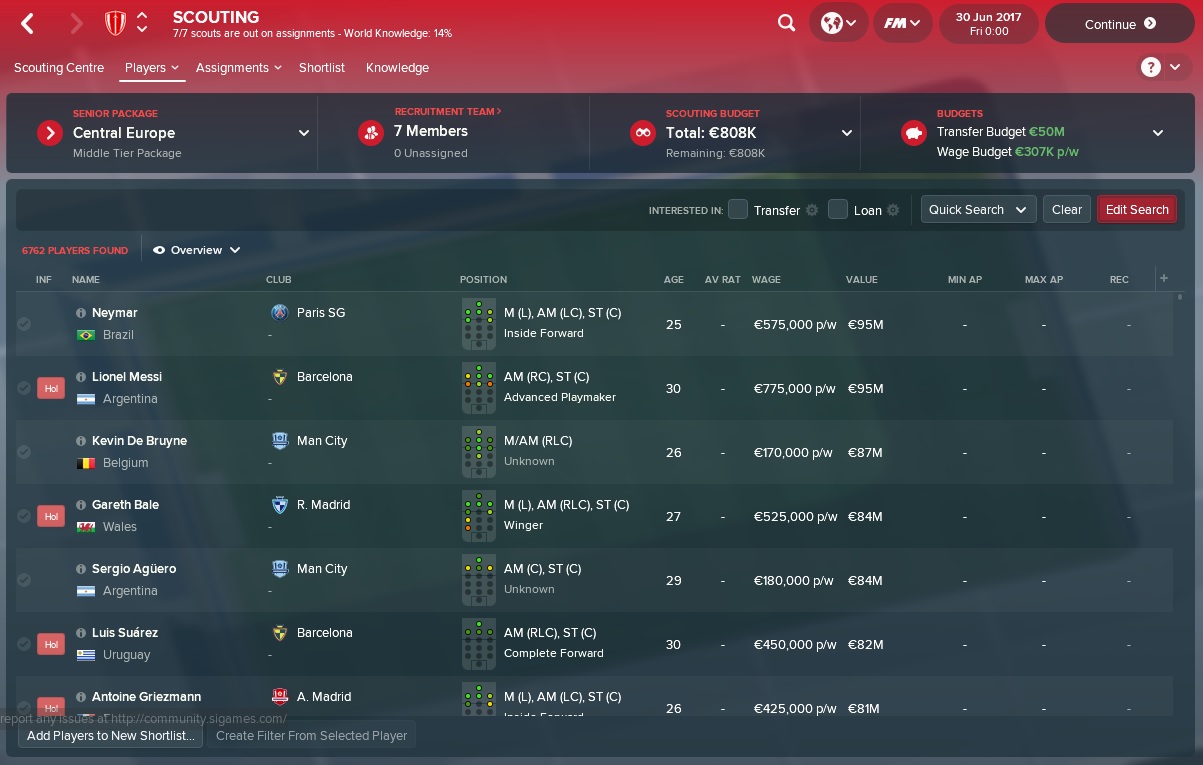 Article continues below
Ronaldo's €55m valuation in Football Manager 2018 means that he is not one of the top 25 most expensive players in the game, coming below Liverpool midfielder Adam Lallana (€56m) and level with Real Madrid team-mates Marcelo and Raphael Varane.
The vast majority of the top 25 is made up of players from Real Madrid, Manchester City and Barcelona, with Bayern Munich, Liverpool and Manchester United all represented. France wonderkid Kylian Mbappe is valued at €58m after his switch to PSG, while new Barcelona signing Ousmane Dembele just misses the top 25 at €56m.
| Player | Club | Transfer Value | Weekly Wage |
| --- | --- | --- | --- |
| Neymar | PSG | €95m | €575k |
| Lionel Messi | Barcelona | €95m | €775k |
| Kevin De Bruyne | Manchester City | €87m | €170k |
| Gareth Bale | Real Madrid | €84m | €525k |
| Sergio Aguero | Manchester City | €84m | €180k |
| Luis Suarez | Barcelona | €82m | €440k |
| Robert Lewandowski | Bayern Munich | €82m | €300k |
| Antoine Griezmann | Atletico Madrid | €81m | €425k |
| Isco | Real Madrid | €78m | €215k |
| Eden Hazard | Chelsea | €78m | €250k |
| Pierre-Emerick Aubameyang | Borussia Dortmund | €76m | €135k |
| Paul Pogba | Manchester United | €75m | €225k |
| Toni Kroos | Real Madrid | €74m | €375k |
| Marco Reus | Borussia Dortmund | €73m | €190k |
| Karim Benzema | Real Madrid | €73m | €325k |
| David Alaba | Bayern Munich | €69m | €190k |
| James Rodriguez | Bayern Munich | €67m | €215k |
| Jerome Boateng | Bayern Munich | €67m | €230k |
| Thiago | Bayern Munich | €66m | €230k |
| Thomas Muller | Bayern Munich | €66m | €275k |
| Ivan Rakitic | Barcelona | €65m | €250k |
| Philippe Coutinho | Liverpool | €64m | €170k |
| Romelu Lukaku | Manchester United | €64m | €200k |
| Mats Hummels | Bayern Munich | €63m | €190k |
| Alexis Sanchez | Arsenal | €62m | €155k |